Name: Tabitha
Location: Mississauga, Ontario, Canada
Age: 17
Top 10 '77 bands: Teenage Head, David Bowie, The Rolling Stones, Stray Cats, New York Dolls, Adam and the Ants, Gary Glitter, Motley Crue, Radio Birdman,
What you like most about '77 bands: The way they make me feel. I feel alive when I listen to them. It always makes me think of when I was small, and I was always with my dad.
3 best shows you attended: All of the ones of my dad's band (Teenage Head), A Ramones show when I was younger, and I guess...AC/DC.
3 favorite songs: 1. New York Dolls - Lonley Planet Boy 2.Teenage Head - Picture my Face 3. Radio Birdman - Hit em' Again
Favorite line from a song: Motely Crue - Looks That Kill
"Now listen up
She's razor sharp
If she don't get her way
She'll slice you apart
Now she's a cool, cool black
Moves like a cat
If you don't get her game
You might not make it back"

Pick 5 bands(dead or alive) you'd kill to see: Garbage, Tool, Nirvana, David Bowie, and New York Dolls.
Tell us about yerself: I would not want this to get me in cheaply, but I figure this is the only place I could tell with people to actually care. My dad is the bassit for Teenage Head. I grew up around all the hubub my whole life. My mom would when she was 16/17 actually dated Tommy Lee. I don't blame you if you don't believe me. But besides that stuff, My name is Tab, and I'm kinda nerdy. I love music, movies, video games and writing. I spend way to much of my time playing Scrabble, quoting movies, or writing fiction stories, but who's really keeping score? Hope you have great day guys.

Pictures;

Me, all red.



Really bright lights.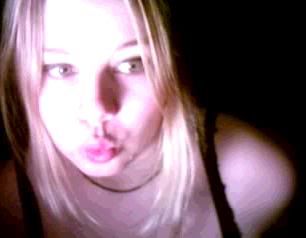 I know it's my chest, but I love this shirt.